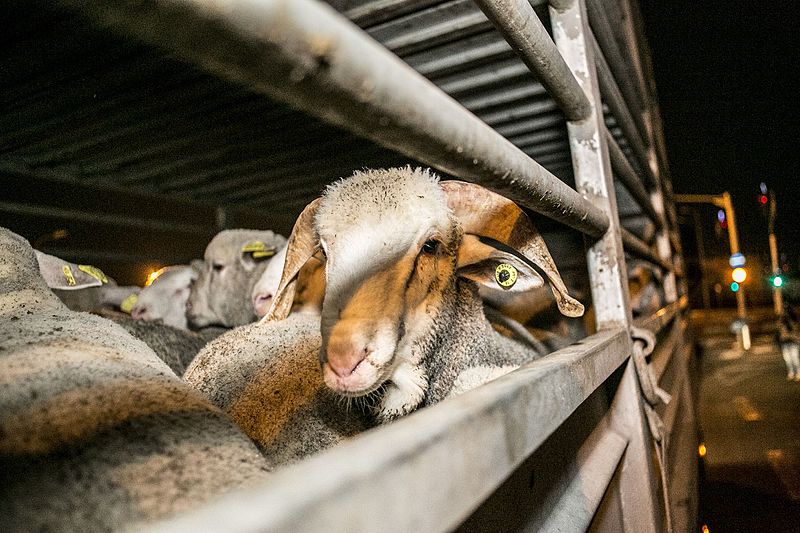 30 Apr

Pressure Mounts: Global Activism Continues to Threaten Live Exports

The Australian live export industry is experiencing increasing pressure from animal activists and politicians since it was discovered that 2400 sheep died upon the ship Alwassi. Image by Shpernik088 from Wikimedia reproduced under an Attribution-Share Alike 4.0 International license.

The increasing voice of animal activists continues to mount pressure upon the Australian live export trade, with several protests held over the last week.

Around 80 protestors gathered at Port Adelaide in South Australia last Friday as the ship Bader III was loaded with cattle, bound for the Middle East.

According to an ABC report, the ship is due to transport the first load of sheep to the Middle East since damning footage of dying sheep aboard the ship Awassi was released last year.

Protestors gathered in Israel over the weekend to march against the departure of a ship operated by the same export carrier as the Awassi. Animals Australia had organised a protest at Fremantle, from where the ship was due to depart.

Israeli protestors have the support and backing of Israel's First Lady Sara Netenyahu, who is pressuring her husband and the Minister of Agriculture to intervene.

Mr Ariel responded by expressing his concern with Minister for Agriculture and Resources, David Littleproud.

"I explained that there was an intention to significantly reduce the transport of livestock from Australia to Israel," Ariel wrote.

"I cannot interfere with a delivery while outside the territorial waters of Israel, but there will be an Israel intervention on animal welfare as soon as it reaches the territorial waters of the state of Israel."
State of Play
While the Australian Government awaits the findings of several reviews commissioned, the Greens continue to call for an immediate ban on live exports, while labour favours an immediate suspension.
Federal backbencher Sussan Ley is planning a private member's bill to "effectively phase out live sheep exports to the Middle East", despite previously supporting the trade. Ley is now joined by Liberal MP Jason Woods who has expressed his position against the trans-shipment of livestock.
The Australian Live Exporters' Council (ALEC) responded by announcing a new plan to strengthen on-board welfare standards including revisiting on-board stocking rates, more stringent monitoring and the use of independent on-board auditors.
For many opponents of the live export trade, the reforms are too little, too late.
"Every time there is a scandal, every time footage comes out from on board these ships, we're told that the Government will do something to stop it, to clean it up," said Greens Senator Sarah Hanson-Young.
"Excuse after excuse. We don't need another review, we need the trade ended."
According to Meat and Livestock Australia (MLA), the Australian Live Export industry is worth an estimated $1.8 billion a year, employing 13,000 workers across rural and regional Australia.
Sources: ABC, The Guardian, The Conversation, ALEC, MLA