Two recent incidents on South Australian farms have sparked a farm safety warning from SA Power Networks.
One of these incidents happened on the Eyre Peninsula, and involved a sprayer, with the other occurring on Yorke Peninsula involving an auger.
SA Power Networks warns that electricity infrastructure is a significant hazard on farms, with 65 incidents in SA since 1 January 2021 involving various types of farm machinery hitting powerlines and poles.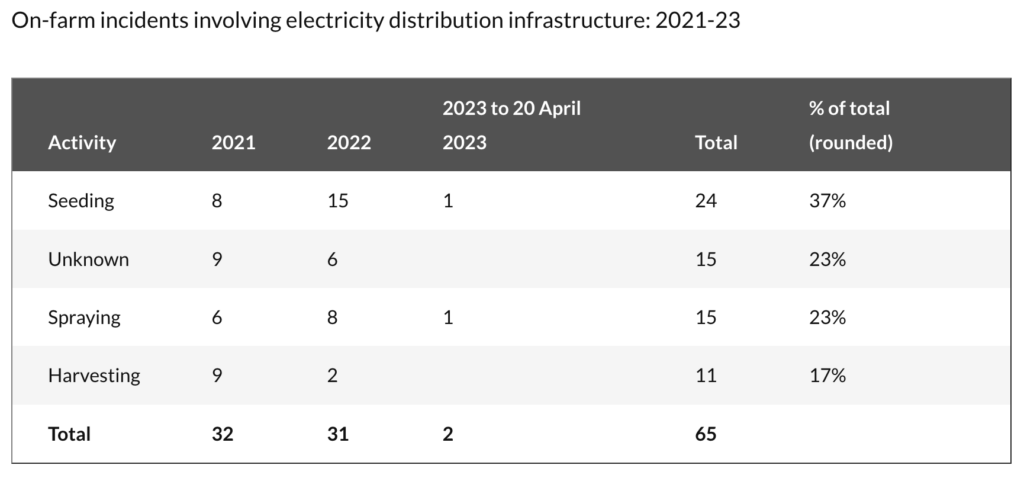 Tractors, seeders, harvesters, spray booms, and augers are some of the most common equipment to come into contact with electricity infrastructure, with most of these incidents happening in the broad acre cropping areas.
"Understandably everyone is keen to get the crops in, but in the rush, they can potentially put themselves and others at life-threatening risk," said Paul Roberts, Head of Corporate Affairs at SA Power Networks.
"This is a positive time on many farms, but an accident would make it disastrous," Mr Roberts said.
"Most of the powerlines on farms are 19,000 Volt SWER (Single Wire Earth Return) powerlines – that is a high voltage that is potentially lethal or that at best will cause significant, long-term injuries."
Mr Roberts said, when undertaking specific tasks, all on-farm workers, including family members, contractors and anyone lending a helping hand, need to be aware of the location of powerlines and Stobie poles and the potential risks.
"The location of powerlines is a critical issue for anyone involved in sowing. There may have been some change to the configuration of powerlines on your property since last year and, with equipment getting taller and wider, that means you must review your powerline clearances before undertaking work."
Powerlines can be difficult to see, so confirming their location before you start work, could avoid serious injury or even save a life."
South Australian Farmers can access GPS mapping of South Australia's electricity distribution infrastructure via the Look Up and Live app and website www.lookupandlive.com.au.
What to do if you hit a powerline
If a vehicle strikes a powerline it is best to stay inside the vehicle until help can arrive.
"When a vehicle comes into contact with powerlines you should immediately contact SA Power Networks on 13 13 66 and, unless there is some other emergency, do not move from your vehicle until SA Power Networks confirms it is safe to exit the vehicle," Mr Roberts said.
"Others in the vicinity also should keep well clear of the vehicle until SA Power Networks confirms the line is safe."

Worried about your workplace safety? The Lucas Group consultants can evaluate your WHS to see if you're meeting your legal safety obligations.
We can also create safe work statements, procedures, instructions, and policies to ensure the highest safety standards in your agricultural enterprise.
References: SA Power Networks